Remembering Hurricane Dorian
September 13, 2019 - Tropical Weather
Hurricane Dorian will be one of the most memorable weather events to affect theUnited States and the Bahamas for a long time to come.  This storm was one of the most powerful and longest-lasting hurricanes on record.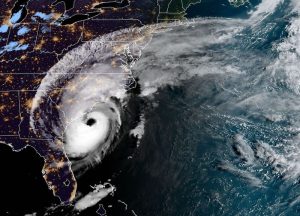 Hurricane Dorian formed on August 23, 2019 in the Atlantic and became a tropical storm on August 25th before becoming a hurricane on August 28th.
Here are a few facts that make Dorian stand out:
Dorian tied Hurricane Ivan from 2004 for the 9th lowest pressure recorded in a hurricane at 910 hPa.

Hurricane Dorian made landfall on Abaco Island in the Bahamas with 185 mph winds and a central pressure of 911 hPa.  The Category 5 hurricane brought catastrophic damage to Abaco and Grand Bahama Islands.

Dorian is the strongest storm on record (by pressure) ever to make landfall in the Bahamas, and it is the first-ever Category 5 to hit Grand Bahama Island.

Dorian became the 18th hurricane to make landfall in North Carolina since 1950.
Hurricane Dorian will be remembered for the devastation it left in the Bahamas – wrought as it spun over the islands for more than 48 hours, traveling less than 1 mph at times.  As the storm 'slept' over the islands, its storm surge and wind damage decimated the area.  As of September 12, 2019, 50 people have died, but more than 2,500 are still missing and the death toll is expected to rise significantly in the days and weeks to come.
This powerful storm will leave its mark on the many lives it has affected for a very long time.  As the cleanup continues, we'll continue to hear more from the people who survived the storm. We sure hope that devastating storms like Dorian steer clear of the U-S and the Caribbean in the future.
Here was the path of Dorian courtesy of the National Weather Services: