The Industry Standard for Hail Maps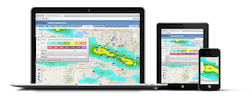 HailSWATH maps provide a geographic visualization of hail storms that occur within the United States. Hail paths are contoured based maximum hail size in quarter-inch increments from 3/4″ up to 4+" hail. What makes our hail maps truly stand out from the crowd is the fact its based on a  proprietary hail verification model proven to be up to four times more accurate than other known methods in the market who use a variation of the NSSL developed hail detection algorithm (HDA) algorithm known to overestimate the size and aerial coverage of hail storms.
This proprietary hail verification model combines hail size algorithms, state-of-the-science artificial intelligence, 3-D storm models, and the best available remote sensing and point-specific weather data to objectively determine what hail size fell over a given location.
HailSWATH Map Features
14 Contours Level from ¾" up to 4"
Turn On/Off Any Hail Contours
View Full Screen Mode
Add Custom Locations
Plot Local Storm Reports
Google Maps Satellite & Street View
Choose Opacity of Layers
6 Different Color Pallets
Find Your Location Button
View Major Building Suppliers
HailSWATH Interactive Maps
The most accurate hail maps available. Know more than your competition, get more work.
---